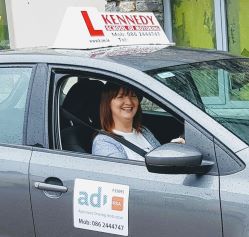 Hello and Welcome to the Kennedy School of Motoring website, My name is Rita Kennedy and I am the Owner and Driving Instructor. When I turned seventeen the only thing I wanted to do was to learn to drive, and just like most seventeen year olds I was looking forward to my driving lessons and couldn't wait to learn to drive and eventually to pass my test, and that I did, by the age of eighteen years I had passed my driving test and was the proud owner of a Full Irish Driving Licence.
I have always loved driving, so I decided to re-train, I completed an intensive driving course with Irish School of Motoring, and then went on to pass stringent testing with the Institute of Advanced Motorists, I have also qualified as an Approved Driving Instructor (ADI Permit Number 35095) with the Official Government Testing Body - The RSA.
Afterwards I felt satisfied that I had the necessary skills, patience and attitude to teach people of all ages proficiently and most importantly safely. One of my main areas of interest in life, is surviving to be at least ninety-six years old. In pursuit of this, I drive safely, confidently and competently and enjoy helping other drivers to do the same. So if you are a total beginner, have just limited driving experience or preparing for your driving test I will structure each driving lesson to suit you in a comfortable and professional environment where you will find learning to drive an enjoyable experience with a patient, friendly and professional Driving Instructor.
What's On Offer

• School car with dual controls
• Car hire available for test
• Lessons available in your own car
• Door to door service
• Pretest driving lessons
• Test routes covered
• Gift vouchers available
The Car
Silver Hyundai i20 Deluxe plus with all the mod cons. My car has been converted into the Kennedy School of Motoring training car.